Dog shows, demos, fringe entertainment and an extensive range of shopping options are the basic ingredients for a fun day out with the family and your four-legged friend.
Entry prices
Tickets are available on site, only at the ZUID entrance.
Children from 0 to 6 years: Free
Children from 7 to 12 years old: 5 euros Online - 6 euros on site
Adults: 10 euros online and 12 euros on site
Buy your online tickets here , payment possible with Bankcontact, iDEAL, Maestro, Mastercard, Sofort or VISA
Online Tickets: GENERAL TERMS AND CONDITIONS
Visitor opening hours
Visitors are welcome between 9am. and 6 pm.
Accessibility for the disabled
Some places are reserved for people with reduced mobility in car park 3A and car park 6 . The standard rates also apply to these places (4.00 EUR)
Parking
You do not need to take a ticket when entering the car park. You can easily pay with your bank card/credit card when you leave the barrier. Rate : 4.00 EUR
Charging stations for electric cars are available at car park 4 . There is a Tesla fast charging station at the exit.
Please note
If you have to park at P1 because your own campus is full, you must also pay your parking ticket there on the spot. The machine is located at the crossing point on the bridge.
Note: Street parking around Kortrijk Xpo is payable, also on Sundays. You even pay a more expensive rate for this than at the Kortrijk Xpo car parks.
Visitor dogs
admitted free of charge, dogs are free of diseases that can pose a risk of infection or difficulties for animals and people present and are vaccinated against Rabies (only mandatory for foreign dogs). When checked, Titers are allowed. Bring the dog's European passport.
Visitor dogs (just like participating dogs) are only admitted via the ZUID entrance.
Eurodogshow Kortrijk-Belgium takes place in Kortrijk Xpo
Kortrijk Xpo
Doorniksesteenweg 216
B-8500 Kortrijk
Info: Kortrijk Xpo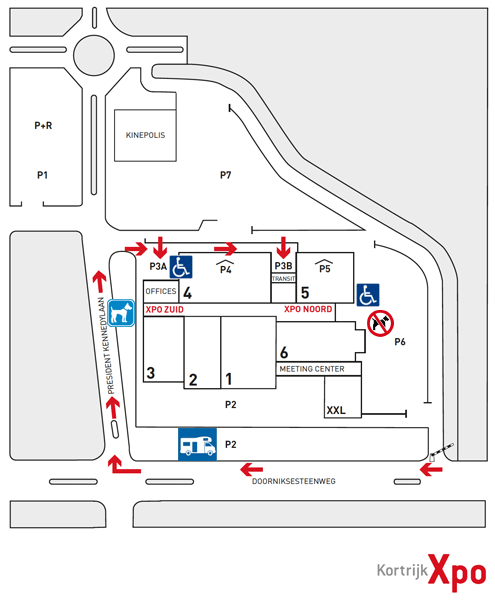 BY CAR
Kortrijk Xpo is located immediately at exit n°2 of the E17 motorway, Amsterdam, Antwerp, Lille.
From Brussels: Motorway E40 to Ghent – ​​Motorway E17 to Kortrijk – exit n°2 Hoog Kortrijk / Expo (distance: 90 km)
From Antwerp: Motorway E17 to Kortrijk – exit n°2 Hoog Kortrijk / Expo (distance: 98 km) From Mons-Doornik: Motorway E403 – motorway E17 towards Ghent – ​​exit n°2 Hoog Kortrijk / Expo (distance: 30 km)
From Ostend-Bruges: E403 to Kortrijk – R8 direction Kortrijk Zuid – exit 't Hoge – exit n°2 Hoog Kortrijk / Expo (distance Ostend: 65 km - distance Bruges: 50 km) From the Netherlands: motorway A1 to Breda – motorway E17 Antwerp-Gent-Kortrijk – exit n°2 Hoog Kortrijk / Expo (distance Breda: 155 km)
WITH THE BUS
At Kortrijk station, take bus 1, bus 12 (Bellegem) or 13 (Hoog Kortrijk) to Kortrijk Xpo. Every 15 minutes there is a bus that takes you to our campus in 10 minutes. Info: The Line
BY TRAIN
There are smooth train connections to Kortrijk from all Belgian cities
From the Netherlands you travel via Roosendaal to Antwerp and Brussels, from where you take the train to Kortrijk.
From France you can travel by Eurostar to Lille, from where you can take the direct train connection Lille-Kortrijk (distance: 40 km).
Info: NMBS